Age spots and sun spots are the same thing. They are a common form of hyperpigmentation and appear as small, flat and darkened patches of skin that are light brown to black in colour. They are most common in people over the age of 40 (hence the name) but they can occur earlier.

They are caused by an increased production of melanin – the natural pigment that gives our skin its colour. Melanin acts as your skin's natural sunscreen by protecting you from harmful UV rays, which is why people tan in the sun. But excessive sun exposure increases the amount of melanin that skin produces. As the alternative name `sun spots` suggests, these dark spots are most commonly triggered by over-exposure to the sun. For this reason, they're usually found on areas of the body that are frequently in the sun: face, neck, décolleté, shoulders, forearms and hands.
You can read more about what causes skin discolouration and find out more about the different types of the condition in Hyperpigmentation: what causes dark spots and how can I reduce them?
Pigment spots are usually harmless although they can affect someone's self-confidence. Certain forms, such as melanoma (a type of skin cancer), can be life-threatening. If you have any concerns about your pigment spots – if they change shape, size and colour or if they become itchy and start to bleed – it's important that you consult your doctor.
Sun protection is the most significant step you can take to help prevent age spots from forming. It's important to remember that the sun's rays effect skin even on cloudy days, so give your skin the daily protection it needs. As well as reducing skin age spots, Eucerin Even Pigment Perfector Day Cream SPF 30 offers effective UVA and UVB (SPF 30) protection and prevents the formation of additional sun-induced dark spots.

Limiting the time you spend in the sun will also help to reduce the formation of age spots. Try to keep out of the sun during its most intense hours and wear protective clothing including sunhats and sunglasses whenever possible. When skin is exposed to the sun, apply and regularly reapply a sun protection product:
- with a suitable SPF level
- which has been specially formulated for your skin type and condition

You can find out more about the Eucerin range of superior sun protection products here.
While prevention is best, once age spots have developed there are steps you can take to help fade them and prevent their re-appearance.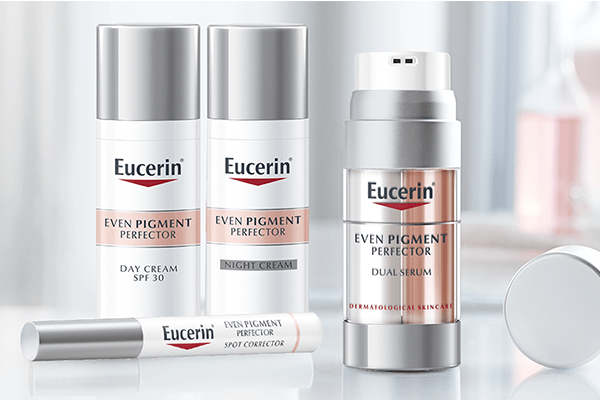 Eucerin Even Pigment Perfector products reduce age spots and help to prevent their re-appearance.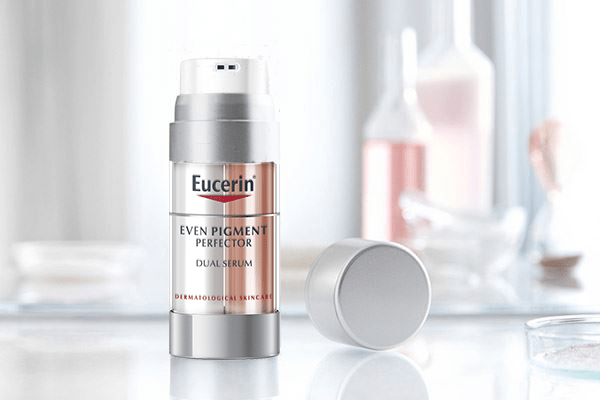 Eucerin Even Pigment Perfector Dual Serum is ideal for fading large areas of age spots.
The Eucerin Even Pigment Perfector range has been specially formulated to reduce age spots (and other forms of hyperpigmentation) for more even and radiant skin. All four products in the range – a day cream, night cream, serum and spot corrector – contain Thiamidol®, an effective and patented ingredient that acts at the root cause of age by reducing melanin production. It has been clinically and dermatologically proven to reduce dark spots and prevent their re-appearance, with regular usage. First results are visible from two weeks and improve continuously with regular use. Products in the Eucerin Even Pigment Perfector range can also be used to extend the benefits of dermatological treatments.
Dermatological treatments such as chemical peels and laser therapy can help to reduce age spots:

- Chemical peels involve applying a chemical solution (such as an AHA,) to the face, neck and hands to exfoliate skin (remove dead skin cells), stimulate the growth of new skin cells and reveal new skin.

- Laser therapy has a similar effect but tends to be more precise as the dermatologist has more control over the intensity of the treatment. Laser treatments involve 'zapping' the affected areas with high-energy light. The mildest treatments work on the skin's epidermis (surface layer), while more intense treatments can penetrate the deepest layers of the skin. Find out more in Laser therapy: how should I care for my skin after treatment?

Dermatologists may also prescribe and/or use hydroquinone which is still regarded as one of the most effective topical agent for reducing dark spots or skin discolouration. It can, however, only be used for limited periods of time because, like other forms of chemical peel and laser treatment, it can irritate skin and actually cause post-inflammatory hyperpigmentation, especially in people with darker skin.