Dermatologists often recommend laser therapy to address signs of ageing or to treat skin conditions such as hyperpigmentation and acne scarring. This article explains how laser therapy works and outlines the different types of laser treatments. We explore what the possible alternatives might be and how best to care for skin and support skin regeneration after laser treatment.
The word LASER is an abbreviation of Light Amplification of Stimulated Emission of Radiation. This describes the way in which laser works: light rays are artificially generated, controlled and used to penetrate human tissue to correct a number of medical and cosmetic issues.

Simply put, problem areas of skin are 'zapped' with high-energy light. This light turns to heat and works on the targeted area. The mildest treatments work just on the skin's epidermis (surface layer) while more intense treatments can penetrate the deepest layers of the skin.

Laser therapy offers a more precise treatment than a chemical peel and it is used to reduce or remove:
- fine lines and wrinkles
- broken veins
- rosacea
- hyperpigmentation issues such as age spots (also known as sun spots) and acne marks
- scars (including acne scars)
- birthmarks
- unwanted hair
- tattoos
There are many different types of lasers used cosmetically but they fall into two main categories: ablative lasers and non-ablative lasers:
Ablative lasers
Ablation is a medical term used to describe the removal of material from the surface of a structure using an erosive process. Ablative laser treatment is defined by the fact that it removes the upper layers of skin and so skin can take a few weeks to heal after treatment.

Ablative lasers are often used to reduce scarring. They are also used to treat wrinkles as they can stimulate collagen production. There are two different types of ablative laser: Carbon Dioxide and Erbium lasers.
Non-ablative lasers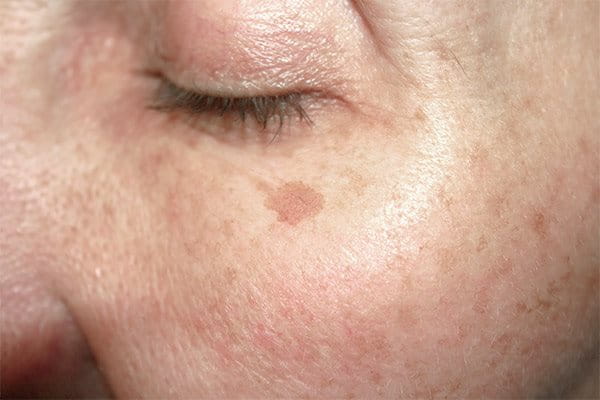 Laser therapy is an effective way to treat hyperpigmentation issues such as age spots
Non-ablative lasers leave the skin surface intact so, while there may be some redness after treatment, skin normally recovers quickly. Because they work below the surface of the skin they are particularly effective at removing broken veins, reducing pigmentation issues, treating fine lines and small wrinkles and removing unwanted hair and tattoos. There are several different types of non-ablative lasers but the most common are Dye Pulsed Lasers (or DPL), Nd: Yag lasers and Alexandrite lasers.

Dermatologists also use other non-laser, light-based treatments such as Intense Pulsed Light (IPL).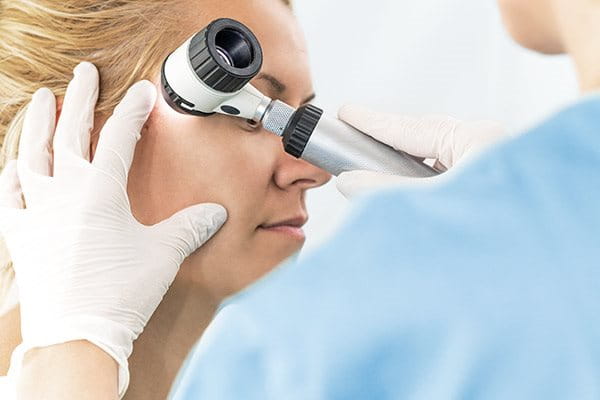 A dermatologist examines skin in order to make treatment recommendations
If you are particularly concerned about hyperpigmentation, rosacea, acne scarring or any other skin condition you should discuss your treatment options with a dermatologist. They will recommend the most suitable treatment for your skin.

There are some effective dermo-cosmetic skincare products that you may like to try before undergoing laser therapy for either rosacea or hyperpigmentation:

- The Eucerin AntiREDNESS range offers immediate and long-lasting comfort and redness relief for skin prone to couperose and rosacea.

- For dark marks such as age spots, sun spots and acne marks try the Eucerin Even Brighter Day Cream. It has been clinically and dermatologically proven to reduce dark spots and prevent their re-appearance. First results are visible after four weeks and results improve continuously with regular use.

If you do decide to have laser therapy, bear in mind that it is most effective on pale skin. Laser therapy may also have side effects and can actually cause post-inflammatory hyperpigmentation.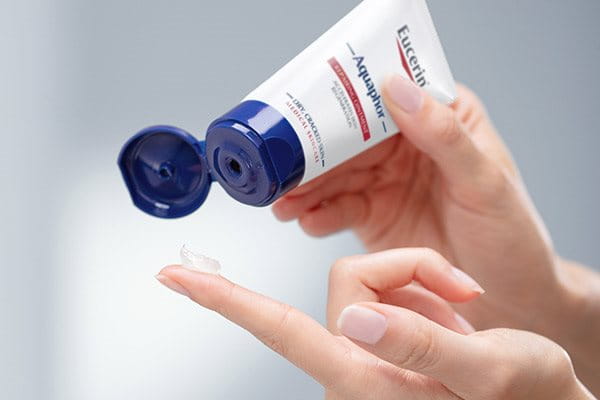 Eucerin Aquaphor Soothing Skin Balm gives skin the SOS care it needs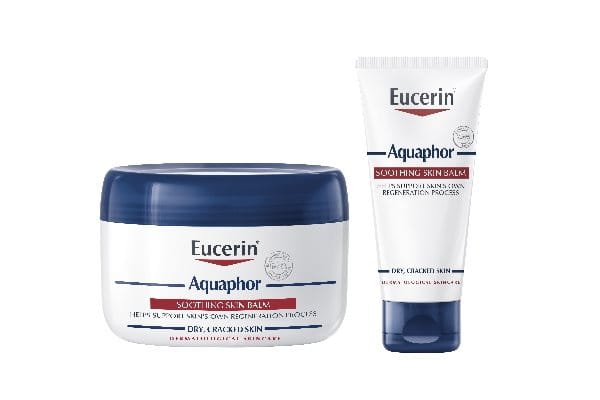 How to care for skin after laser treatment: Eucerin Aquaphor
Laser therapy should always be conducted by a qualified and experienced practitioner and you should follow their pre- and after-care instructions carefully.

Once skin tissue has reformed (a process known as re-epithelialisation), keeping skin moisturised helps skin to regenerate. Eucerin Aquaphor Soothing Skin Balm gives skin the SOS care it needs. It forms a semi-occlusive protective barrier over skin which supports the natural transfer of water vapour and oxygen to and from skin. The formula contains Glycerin – an effective moisturising ingredient that attracts water and helps to keep it in the skin.

Glycerin works alongside Panthenol which helps to speed up regeneration and repair while also moisturising skin. Eucerin Aquaphor Soothing Skin Balm is clinically and dermatologically proven to repair very dry, cracked or irritated skin. It shouldn't be applied to open, weeping or bleeding wounds.

Skin resurfaced by laser treatment is also likely to be highly sensitive to sunlight, so it's important to wear a high sun protection factor after treatment, even on cloudy days. The Eucerin Sun range includes facial sun protection products in very high SPF (50+) to give skin the protection it needs after laser therapy.

If you had laser therapy to treat rosacea or hyperpigmentation we also recommend that, once skin is fully recovered, you care for skin with a gentle but effective daily routine using products that will support your skin's particular needs and prolong the effectiveness of your treatment. Try the Eucerin AntiREDNESS Concealing Day Cream for rosacea-prone skin and for skin prone to hyperpigmentation. We also recommend you use superior sun protection products daily to help prevent symptoms from reoccurring.