It's time to leave dull skin behind: follow our tips on how to put your brightest face forward.
Why radiant skin matters
Feeling good about your skin offers a self-confidence boost, no matter your age or how much make-up you like to wear. On the other hand, tired skin can negatively impact how we feel inside and amplify our sense of being stressed or worn out. Which is why radiant skin is not only a mood lifter but also a way to let your natural beauty shine. Bright and dewy skin can serve as the perfect base for a full face of make-up or encourage you to feel more comfortable in your skin, eschewing filters on social media in favour of being more radiantly yourself.
How to get more radiant skin
Transform your skincare routine into a wellness session
Indulge in some relaxing me-time during your morning skincare routine and take your time while cleansing your face, applying your serum, your day cream and sunscreen. This way, the products have enough time to be absorbed by your skin, and you can relax before starting into a busy workday.
Treat yourself to a facial massage at home
Skincare products work even better when you massage them into your skin. At the same time, you can relax your facial muscles, reducing stress and making your complexion look more even.
Start the day with facial yoga
Besides your skincare routine and facial massage, you can pimp your self-care techniques by including some facial yoga as a morning workout. Like the muscles of the body, the muscles of the face become tighter with exercise. Therefore, actively moving the muscles can prevent premature sagging of the skin and deep wrinkles.
Get your beauty sleep
While you sleep, your skin repairs the day's damage caused by dust, dirt, and UV rays from sunlight so that your skin looks radiant and beautiful in the morning. You can additionally support this effect with a night cream tailored to your skin type. Don't forget to clean your face before applying the night cream and regularly change your pillowcase to avoid pimples.
Enjoy foods for luminous, healthy skin
Eat your veggies and fresh fruit every day – this is not only good for your body and your wellbeing but also lets your skin shine in a healthy glow. The reason is that vegetables and fruits are full of vitamins, minerals, and secondary plant substances – especially the intensely coloured ones. However, avoid overeating sugar and saturated fat and drinking too much alcohol. Stay hydrated, though, and drink at least six glasses of water every day.
What skincare product promote radiance
Retaining your skin's radiance long-term requires regular maintenance and care against daily stressors, combining the five steps above with the right skincare products for the job. Eucerin Even Pigment Perfector Skin Perfecting Serum is designed to be your radiance partner in crime. It promotes an even complexion and a beautiful, natural glow to help you look your best just being yourself: so that your skin's radiance matches your radiant personality.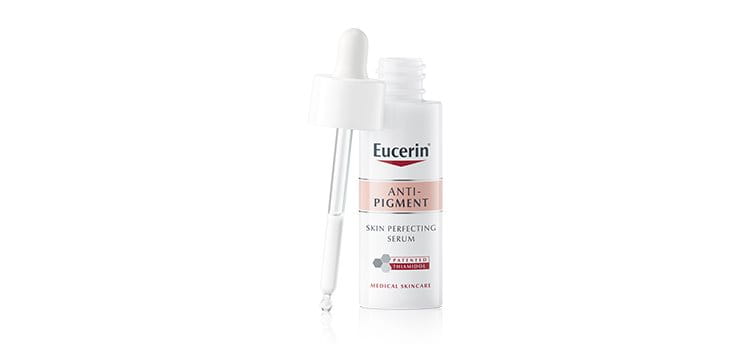 Eucerin Even Pigment Perfector Skin Perfecting Serum
Our brand values
Pioneers in skincare
We deliver a holistic dermo-cosmetic approach to protect your skin, keep it healthy and radiant.
Recommended by dermatologists
We work together with leading dermatologist and pharmacist partners around the world to create innovative and effective skincare products they can trust and recommend.
Committed to innovation
For over 100 years, we have dedicated ourselves to researching and innovating in the field of skin science. We believe in creating active ingredients and soothing formulas with high tolerability that work to help you live your life better each day.